Laura Kinrade: Appeal launched for children who survived mother's fatal car crash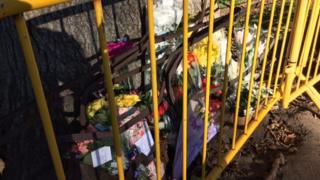 A fundraising appeal for a mother-of-two who died in a car crash on Sunday has already raised more than £1,000.
Laura Kinrade, of Jurby, died at the scene after her car hit a tree on Lezayre Road at about 18:30 GMT.
Police said the 27-year-old's two young children, who survived the crash near Ramsey, were treated in hospital for "minor injuries".
Appeal organiser Wayne Dale said the YouCaring page had raised about £1,300 for the family.
He added "I want to take the worry away from her family about funeral expenses because it's going to be a very, very difficult time for them.
"She was a very good mother and she absolutely idolised her kids - they saw the whole thing so I can't even imagine what is going on in their heads.
"After I have raised money for the funeral expenses I want there to be some money left to help the kids wherever they go."
Several bunches of flowers have been placed by friends and family at the scene of the crash.
Police, who are "keeping an open mind" about the circumstances surrounding the crash, said: "We were moved to see the tributes for a young lady who was clearly much loved and will be missed by many."
A spokesman appealed for any witnesses to come forward.