Pinewood Studios deal sees Manx treasury make £10.1m profit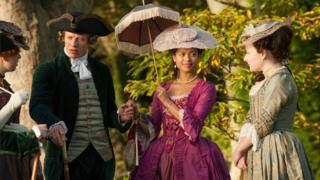 The Manx government has made a profit of over £10.1m on the sale of its shares in Pinewood Shepperton Studios, the treasury has announced.
The government paid almost £12.3m for a 9.9% stake in Pinewood Group in 2012.
It sold about half of the shares in 2015 and the remaining stake earlier this month for a combined total of £22.4m.
The deal saw films such as Belle and Robot Overlords use locations on the island.
A government spokesman said an offer for the remaining stake of £5.60 per share plus a final dividend of 3.2p from Picture Hold Co had been accepted by the major shareholders, the Pinewood Group board and the treasury.
He added that the profits from the sale were being held in a reserve fund.
Shepperton Studios in Surrey has been producing films since 1934, playing a part in classics such as the musicals Oliver! and Chitty Chitty Bang Bang, the Harry Potter series and upcoming productions, Doctor Strange and Beauty And The Beast.