Ian Bell: Isle of Man TT sidecar racer death was misadventure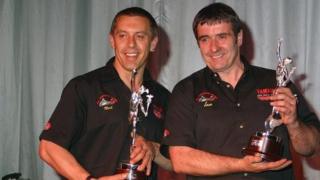 The inquest into the death of a sidecar competitor who was killed in a crash during the 2016 Isle of Man TT races has recorded a verdict of misadventure.
Ian Bell, 58, of Bedlington, Northumberland, died on 10 June at a section of the TT circuit known as Ballaspur.
Coroner John Needham told Douglas Court House Mr Bell's Yamaha collided with a roadside barrier.
His son Carl, who was his passenger at the time, was not injured in the crash.
The crash happened on the final lap of a three-circuit race, during which Mr Bell had averaged a speed of about 112mph (180km/h).
Mr Needham said the 58-year-old's machine "ran wide on the corner at Ballaspur", causing the collision.
'Very experienced'
The inquest heard Mr Bell died from multiple injuries as a result of massive blunt force trauma, predominantly to his head, neck and chest.
A vehicle examination showed his motorcycle was "in perfect condition" before the crash and had no defects which would have contributed to what happened.
The father-of-two, who started his racing career in the 1970, made his debut at the Isle of Man TT races in 1995.
He claimed TT victory alongside passenger Neil Carpenter in 2003, but retired from the sport after a crash the following year- he later returned to the Isle of Man races in 2007, with son Carl in the sidecar.
The coroner said Mr Bell had been "a very experienced sidecar racer [who] clearly knew his way around the course".
Recording his verdict, he said Mr Bell had "lost his life while following his passion".