Ramsey lighthouses to be rebuilt costing £100,000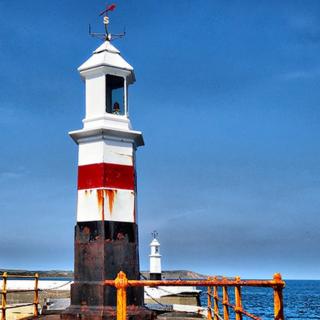 Work to renovate two historic lighthouses in the Isle of Man is to take place at a cost of £100,000, the government has confirmed.
The 4m (13ft) "pepper pot" structures have stood on Ramsey's North and South piers since the late 1800s.
Without "urgent renovation" the structures could get washed away in stormy weather, said a spokesman.
The lighthouses will be rebuilt to "assist mariners for many decades into the future".
Concerns have been raised after the lighthouse on Alfred Pier in Port St Mary was destroyed during a storm. in 2009.
A recent inspection of the Ramsey lighthouses revealed them to be in such poor condition "they need to be taken down and rebuilt".
Repairs will be made to the cast iron panels which have suffered extensive corrosion and fractures.
Tim Cowin from the Department of Infrastructure, said: "The lighthouses are an important part of Ramsey's marine infrastructure and this work will help to preserve them for generations to come."
Temporary navigation lights will be in place on both Ramsey piers while the work is carried out.
The scheme, which begins next week, will be completed by next Spring.