Lasers used in Isle of Man prehistoric graves study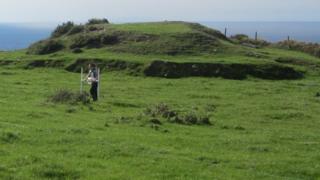 Cutting-edge laser technology is being used by scientists to study prehistoric graves on the Isle of Man.
LiDAR imagery (light detection and ranging) will help archaeologists examine more than 160 "round mounds" dotted around the Manx countryside.
The project, led by Leicester and Newcastle universities, will also analyse the DNA of human remains.
It is hoped this will determine the age, sex and pathology of those buried on the island about 5,000 years ago.
Andrew Johnson, of Manx National Heritage (MNH), said: "People were often buried with food, weapons and tools - all the things you would expect someone to need in the afterlife.
"These round mounds range from the Neolithic to the Bronze age - anywhere between 4,000 and 5,000 years ago."
The aim of the project is to see if there is anything particularly Manx about the round mounds, as well as to see how they relate to a wider collection of monuments across Britain and Ireland.
Some cremated bones, currently being held at the Manx Museum, have already been excavated from the sites and are being analysed by experts.
Bio-archaeologist Michelle Gamble, who is working on the project, said: "These bones have never been looked at before.
"As far as I can tell so far, these belong to just one person - most likely a later adolescent or an adult."
The project, funded by MNH and Culture Vannin, is due to end next year.