Isle of Man police could be given body cameras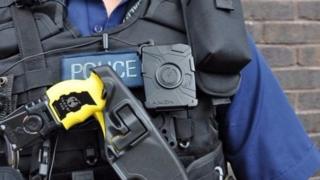 Manx police could soon be wearing body cameras as part of plans for a £1.5m "digital transformation" of the Isle of Man constabulary.
The five-year plan also aims to cut the amount of time officers spend doing paperwork - it is hoped they will be able to be out on patrol more.
Chief Constable Gary Roberts said: "There's evidence to suggest more people plead guilty when they know their behaviour's captured on video.
"That'd save police and court time."
"People's behaviour also seems to improve when they know they are being filmed, for example, in the early hours of the morning outside a nightclub," he added.
The investment in police equipment is part of the government's digital strategy which was approved by Tynwald last year.
A Cambridge University study, published last month, showed police body cameras can dramatically reduce the number of complaints against officers.
Other ideas being considered by the Manx constabulary include the use of drone cameras and mobile speed detection cameras.
"The key thing is to get the core system in place and running properly, once we've done that the only thing that will limit us is our ambition," added Mr Roberts.
"We are not going to get more police officers - but an efficient system will mean the ones we have will get to spend more time on the streets."