Newborn puppies dumped in bin bag on Isle of Man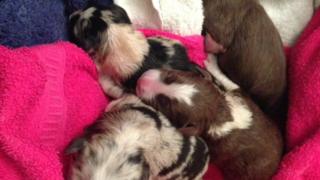 Four puppies are recovering after being dumped in a bin bag on the Isle of Man.
The newborn collies were found by a member of the public in a field near the Ramsey amenity site on Thursday.
Ramsey police, who are investigating, confirmed the young animals had been checked over by a vet and are "doing well."
The puppies, two males and two females, are now in the care of the Manx Society for the Prevention of Cruelty to Animals (MSPCA).
Julie Smyth, whose partner found the puppies, said on her Facebook page said they were "saved just in the nick of time."
She added: "How people can be cruel to defenceless animals leaves me absolutely speechless and I hope the people responsible are caught."
"I hope they find the loving homes that they really do deserve."
Anyone with information is asked to contact Ramsey police station.