Howard Quayle elected as Isle of Man chief minister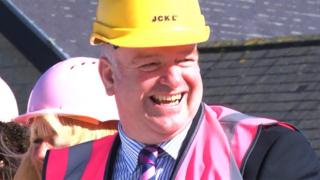 A new chief minister has been elected in the Isle of Man.
Howard Quayle, 49, from Crosby, was chosen by members of Tynwald at a special sitting of both the upper and lower house earlier.
Mr Quayle gained a total of 21 votes beating challengers Kate Beecroft, who received three votes, and Alf Cannan, who secured nine.
His appointment follows the resignation of Allan Bell who retired from Manx politics after 32 years.
Following his appointment Mr Quayle said: "It is very great honour to be chosen as the new chief minister of the Isle of Man, and I am grateful to Tynwald for so strongly supporting my nomination.
"I intend to lead an inclusive government that works hard, and works together, to secure a sustainable future for the people of the Island."
Mr Quayle, the former minister for health and social care, received 12 votes from members of the House of Keys and nine from the Legislative Council.
David Ashford, a member of the House of Keys who nominated Mr Quayle, said: "He is one of the most experienced members of this honourable court - he knows how government works and, as such, is in the best position to fix the parts which don't.
"He will bring real and lasting change and make a real and positive difference in everyday lives."
| Candidate | Proposed | Seconded |
| --- | --- | --- |
| Kate Beecroft | Lawrie Hooper | Julie Edge |
| Alf Cannan | Chris Thomas | Martyn Perkins |
| Howard Quayle | David Ashford | Ray Harmer |
All three candidates were elected as Members of the House of Keys in 2011 but Mr Quayle was the only one with ministerial experience.
At the Tynwald sitting, there was a full house of both the lower chamber of Tynwald, the House of Keys, and the upper chamber, the Legislative Council.
Who is Howard Quayle?
Nationality: Manx
Election success: Middle 2011, 2016
Ministerial positions: Health and Social Care
Married with three children