Giant deer on island 4,000 years before humans, experts say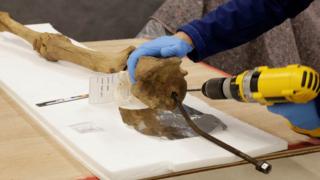 Tests on a giant deer skeleton which was excavated more than 100 years ago suggest it lived on what is now the Isle of Man 4,000 years before humans.
The deer, which has an antler span of more than 2.6m (8.5ft) was discovered in 1897 in a marl pit near St John's.
Experts from Oxford University used radiocarbon dating on bone samples and believe the deer died 14,500 years ago.
A spokesman for Manx National Heritage (MNH) said all the samples were "statistically consistent".
The work was undertaken during a eight-month conservation project of the skeleton - the first since it went on display a century ago.
MNH Objects Conservator Christopher Weeks said: "It was important to make the very most of the opportunities that dismantling, cleaning and conserving the deer gave us.
"We removed three tiny samples of bone for radiocarbon dating by the Oxford University Radiocarbon Accelerator Unit.
"All three samples provided dates which were statistically consistent with each other and show clearly that the deer died about 14,500 years ago, more than 4,000 years before the earliest evidence of human habitation yet found on the island."
DNA samples were also taken, with the museum hoping they can "tie the Manx deer to his cousins in Ireland, Scandinavia and Russia".
The deer's restoration was part of a £100,000 project, funded by the Isle of Man government, which also included several new galleries and exhibitions.