Slight rise in 2016 Isle of Man TT tourism figures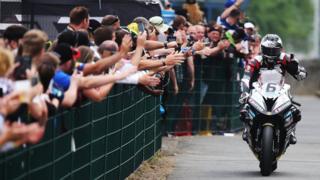 The number of racing fans travelling to the Isle of Man for this year's TT festival saw a slight rise.
The Manx government said 42,420 spectators attended the 2016 event, while 2015 visitor numbers totalled about 42,131.
TT fans spent an average of 6.6 nights on the island, typically each spending £738, according to a survey.
A government spokesman said the annual event boosted the island's economy by £22.5m.
The busiest night of the festival was on 5 June, when tourist numbers peaked at 26,000.
'Positive results'
More than 40 different nationalities were represented in the questionnaire, although the bulk of visitors (87%) were from the UK and Ireland.
A spokesman from the Department of Economic Development said: "Similar to a mature business, delivering big growth numbers for an established event is particularly challenging without significant new investment and additional resource.
"The figures this year show a trend towards a more balanced distribution of visitors across the event.
"These are positive results and show the further potential of the event."