Nigel Dobson: Manx election candidate handed drinking and driving ban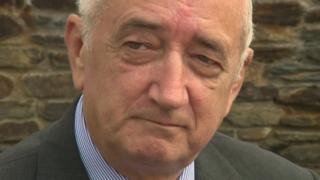 A candidate who stood in last week's Manx general election has been banned from driving for five years for drinking and driving.
Nigel Dobson, 63, of Ballachrink Drive, Onchan, was stopped by police on Groudle Road on 2 September.
He was arrested at 01:00 BST after a breath test revealed he had 52 microgrammes of alcohol per 100ml of breath - the legal limit is 35.
Dobson finished last of the five candidates in the Garff constituency.
Registering 231 votes on 22 September, he was soundly beaten by Daphne Caine and Martyn Perkins, who secured 1,270 and 1,767 votes respectively to be elected to the House of Keys.
Magistrates at Douglas Court House told Dobson, who was also fined £1,000, that he must retake his driving test and attend a rehabilitation course before he can drive again.
Garff
Candidate
Affiliation
Votes
Status
Andrew Barton
Independent
346
Daphne Caine
Independent
1,270
Elected
Nigel Dobson
Independent
231
Martyn Perkins
Independent
1,767
Elected
Andrew Smith
Independent
1,247