Isle of Man's 'world first' Unesco status celebrated with stamps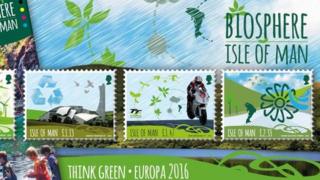 The Isle of Man's status as a Unesco world biosphere region has been celebrated in a new set of stamps.
In March the Isle of Man became the first entire island nation to be granted the status, which recognises "outstanding natural landscapes".
The island earned the accolade by committing to taking care of its nature and wildlife, as well as culture, heritage and communities.
The five-stamp issue will be released on 7 October.
The Unesco World Network of Biosphere Reserves now features 669 reserves in 120 countries including Uluru (formerly known as Ayers Rock) in Australia and Mount Kenya.
Project leader Peter Longworth said: "This year saw the Isle of Man recognised as a special place for people and nature.
"This acknowledges the entire Isle of Man and surrounding seas as an official World Biosphere Region.
"We were very proud to become the world's first entire island nation with the status."
Unesco praised the Isle of Man as a "special place for people and nature".
Isle of Man Stamps & Coins General Manager Maxine Cannon said the stamps have been released in honour of being the "world's first entire country to gain this prestigious accolade".
The stamps feature some of the images used to promote the island during its campaign.
---
What is a biosphere?
'Biosphere' is the scientific name for the living surface of our planet, encompassing the land, the sea and the air we breathe.