Isle of Man General Election 2016: MHKs sworn in at ceremony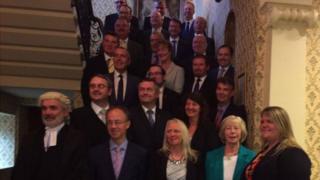 Newly elected members of the House of Keys have been sworn in for their five-year term at Tynwald following the Isle of Man's general election.
The 24 successful candidates, half of whom are newcomers, swore an oath of allegiance and signed a declaration.
The 22 September election saw the highest number of first-time MHKs elected since 1976.
A record five women were also elected - in Douglas South, Douglas Central, Douglas East, Onchan, and Graff.
One of the new faces, Douglas North MHK David Ashford, said: "It hasn't sunk in yet - I don't think it will until we start work in earnest later.
"I'm not like a rabbit in the headlights though because I have eight and a half years' experience on Douglas Council so I know and understand the procedures."
The MHKs took up their positions in front of a full gallery of family and friends.
BBC Isle of Man reporter Ariane Barua, who was at the ceremony, said: "It was a good-humoured and relaxed atmosphere - with so many new faces it was a bit like the first day at school."
Speaking afterwards, Douglas South MHK Kate Beecroft said: "We have so much new talent - it's wonderful. It's going to be a great five years in Manx politics."
Onchan MHK Rob Callister said: "There is a lot of business skill elected in this time. Probably more than there has been for the last 20 years - that feels very reassuring.
"It was such a privilege and honour to stand up and take that oath."
Alex Allinson, who received the highest number of votes in last week's election, said: "It was a very formal ceremony which is right and fitting for the longest continuous parliament in the world - however it's a cutting-edge parliament and we were the first in Western Europe to give the vote to 16 year olds.
"I'm privileged to be part of it."
At their first sitting, the island's new MHKs elected former home affairs minister Juan Watterson as Speaker of the House and will hear nominations for a new chief minister.
So far Rushen MHK Laurence Skelly and Douglas South MHK Kate Beecroft have thrown their hat in the ring to succeed the retiring Allan Bell.
Following a change to the constituencies, there will also be a new seating plan in the lower chamber with the two MHKs from each area sitting together.
How the dramatic night unfolded
Tynwald is made up of two chambers: the directly elected House of Keys (lower house) and the Legislative Council (upper house).
As well as the 24 elected MHKs, the Legislative Council has three automatically-appointed members (the Bishop of Sodor and Mann, the President, and the Attorney General) plus eight other members who are elected by MHKs.
The two chambers process legislation which requires Royal Assent but sit together as Tynwald to debate policy and financial issues.