Isle of Man 2016 General Election: Laurence Skelly declares chief minister aim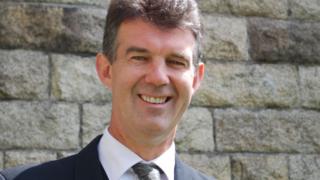 Laurence Skelly has become the first member of the newly elected House of Keys to publicly declare his interest in becoming the Manx chief minister.
The former economic development minister retained his Rushen seat in Thursday's general election.
Chris Robertshaw, Howard Quayle and Alf Cannan are also likely candidates.
Referring to the fact that half of the 24 MHKs will be new to Tynwald, Mr Skelly told the BBC he would seek to "unite an inexperienced House of Keys".
How the dramatic night unfolded
He added that, if elected as Allan Bell's successor as chief minister, he would "drive forward a strong government to engender trust and confidence in the people of the Isle of Man".
Former home affairs minister Juan Watterson, who topped the poll in Rushen, has not declared whether he will throw his hat into the ring.
Following the historic general election - in which more seats changed hands than at any time since 1976 and a record five women were elected - the BBC attempted to speak with all 24 members and immediately spoke with 16.
David Ashford, who was elected in Douglas North, said he would back Mr Quayle, who would be the "safest hands on the tiller".
When asked what qualifications were needed for the top job, many MHKs stressed the importance of strong leadership and previous ministerial experience.
---
Who is Laurence Skelly?
Nationality: Manx
Age: 54
Election success: Rushen 2011, Rushen 2016
Ministerial positions: Economic Development
Married with two children
Former businessman and business consultant
---
The majority said they wanted to hear more from those interested in the role, and their ideas about how to steer the Manx ship forward through some turbulent economic waters, and the likely fall-out from Brexit.
Bill Mallarkey, who was re-elected in Douglas South, told the BBC: "With 12 new faces we need strong leadership", and warned of the consequences of choosing the wrong candidate.
MHKs will be sworn in on Tuesday, when a new Speaker will be elected.
Nominations for chief minister must be submitted by this time.
The election for the chief minister will be on 4 October.