Matthew Chapman: Isle of Man helicopter pilot death 'accidental'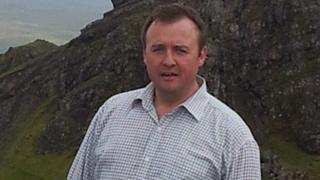 A pilot's death was caused by the rotor becoming detached from the body of his helicopter which crashed during high winds, a coroner has determined.
Matthew Chapman, a businessman from Louth, Lincolnshire, was the only person on board the privately owned aircraft when it crashed on 6 June, during the Isle of Man's TT Festival.
The 48-year-old had dropped off two passengers shortly before the crash.
Coroner John Needham ruled the fatal Baldwin Valley crash was an accident.
He said Mr Chapman died from "multiple injuries".
Douglas Courthouse heard he had set off from Milton Keynes at about 06:00 BST in his Bell Jetranger helicopter.
On his way to the Isle of Man he picked up two passengers from Woburn golf course in Bedfordshire.
One of them was Mr Chapman's friend, Simon Grantham.
He said: "Matthew hired a helicopter for the journey which took about two and a half hours."
The court heard Mr Chapman dropped both his passengers off at the Creg Ny Baa - a popular viewing area for the annual TT races.
He had then intended to refuel at Ronaldsway Airport before returning to the area by taxi to watch the races.
But his helicopter came down at about 09:00 BST in a field on a hillside adjacent to the 33rd milestone on the Mountain Road.
Mr Grantham said: "I was informed later by police that the helicopter had crashed and Matthew had died.
"I was in shock, Matthew was a good friend, an experienced pilot and very level-headed."
An eye-witness who was riding his bike on the A18 Mountain Road said he saw the helicopter "flip upside down before spiralling towards the ground".
"I could see the wreckage from the road and I didn't think anyone would have survived," he added.
Mr Chapman, whose body was found trapped in wreckage, was pronounced dead at the scene.
The Air Accidents Investigation Branch (AAIB) said he battled "turbulent conditions", adding that the helicopter was facing gusts of 46 knots (53 mph) at the time of the crash.
Its expert Timothy Atkinson added that Mr Chapman held a valid licence and the helicopter, manufactured in 1971, was "serviceable".
"In good weather mountain flying would not have presented a problem for this pilot but in high winds specialist techniques would have been necessary to fly without hazard."