Four rescued after fishing boat starts taking on water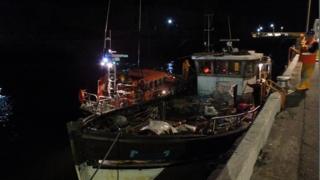 Four people have been rescued after their converted trawler started taking on water off the Isle of Man coast.
The crew, who were travelling from Scotland to North Wales, got into difficulty at 01:30 BST about 11 miles (17km) off Peel.
Those onboard were given shelter by a nearby Irish fishing boat before Peel's volunteer lifeboat crew were able to get a pump on to the vessel.
The RNLI was able to stabilise the boat, which was in danger of sinking.
A woman and child were later taken to hospital after being "taken ill" whilst the boat was towed back to Peel.
The other two crew were uninjured.
Two helicopters set to help with the rescue were stood down.
Coxswain Paul Cain said people must "take responsibility for the condition of their vessels before leaving port".
He added that their vessel had been in "danger of sinking after taking on water through its stern tube."