Louis Thornton: Tributes to Manx footballer found dead in Liverpool hotel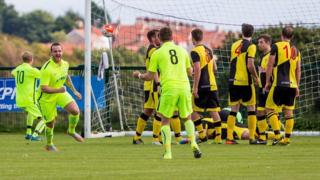 The captain of a Manx football club has been found dead at a Liverpool hotel.
The body of Louis Thornton, 26, who played for Douglas-based Corinthians, was discovered at 05:20 BST on Saturday in his hotel room in James Street.
Club treasurer Steve Corran said Mr Thornton, who had been on Merseyside to watch his beloved Middlesbrough play Everton, was a "big character" and a "leader, both on and off the pitch".
Mr Thornton's death is not being treated as suspicious.
In a statement, Corinthians said everyone was welcome at the club to pay their own tributes.
Mr Corran said: "We would like people to come and visit the pitch where our Louis scored great goals, scruffy goals, put in crunching tackles, but most of all has given his family, team-mates, managers and fans so many memorable moments."
Mr Thornton worked for an accountancy business in Douglas.
Mr Corran, who was also his boss at work, said: "He worked hard and gave 100% in everything he did on and off the pitch."