IoM Food & Drink Festival 2016: Thousands attend two-day event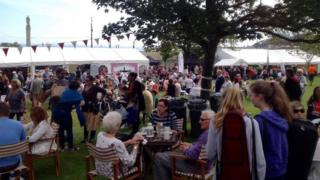 Thousands of people attended the Isle of Man food and drink festival in Douglas over the weekend.
The annual two-day event, now in its eighth year, is designed to showcase the range and quality of Manx produce.
Last year more than 7,000 visitors sampled produce from 55 stall holders at the Villa Marina, and the organisers promised a celebration of produce grown, reared, baked and made locally.
A shuttle bus service operated from the Bowl car park to ease congestion.
The festival also saw demonstrations from Masterchef contestant Josephine O'Hare as well as hosting the finals of Isle of Man chef of the year.