WW1: Merseyside war hero remembered 100 years after death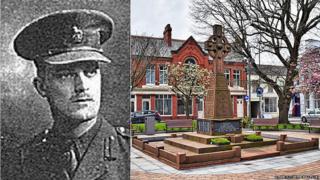 A cross will be placed at an Isle of Man war memorial later in memory of a Merseyside war hero who was killed 100 years ago during World War One.
The Royal British Legion said Capt Harry Crippin of the Royal Artillery died "gallantly" serving his country on the Western front.
A minute's silence will be held at 18:30 BST at the Ramsey war memorial close to where his parents later lived.
Ramsey Town Commissioners said anyone can come and pay their respects.
'Gallant and distinguished'
The Royal British Legion said Capt Crippin, from Huyton near Liverpool, was reconnoitring for new gun positions when an enemy shell burst and killed him along with his General.
He was mentioned in Despatches and awarded the Military Cross in 1915 by Sir John French for "gallant and distinguished service in the field".
According to the Royal British Legion, Capt Crippin was a qualified French interpreter who served in the role of Brigade Major and had also gained the Distinguished Certificate for Signalling.
His body is buried at the Citadel New Military Cemetery in Somme, France.
Britain and its Empire lost almost a million men during WW1; most of them died on the Western Front.