Isle of Man over-75s required to pay TV licence fee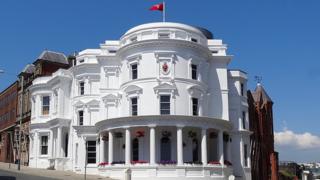 Isle of Man residents over the age of 75 will have to pay for their own TV licence fee after a new law came into effect.
The move, affecting 5,000 households, was approved in the 2015 budget in a move to save the Manx government around £600,000 a year.
A spokesman said those residents in receipt of income support will still be eligible for help.
Over-75s in the UK will have their licence fee paid by the BBC until 2020.
'No longer affordable'
The new law, which has also been introduced in Guernsey, affects all households which include a person aged 75 or over.
Isle of Man MLC Bill Henderson said: "Since the beginning of 2002, anyone aged 75 or over has been eligible to receive a free TV licence, irrespective of their means.
"The same arrangement exists in the UK. However, the cost to the taxpayer (on the island) is no longer affordable and cannot be justified."
From 1 September, affected households will have to pay £145.50 to watch BBC programmes including the iPlayer.
The government said renewal notices will be issued by the BBC to those who need a TV licence and anyone who fails to have one may face prosecution.