Isle of Man general election: Residents must register to vote before Thursday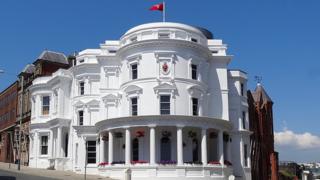 Isle of Man residents must be registered before Thursday to vote in the general election.
Residents must be listed on the electoral register, aged 16 or over by election day, live on the island for at least a year and reside at the address on the registration form to vote.
Sixty-three candidates will contest the House of Keys (HK) on 22 September.
The new members of the HK will be sworn in on 27 September with a new chief minister chosen on 4 October.
The island is almost entirely self-governing, and the 24 successful representatives will control virtually every aspect of public life, from law and order to health provision.
Twenty-four MHKs from 12 constituencies will be elected for a term of five years.
Isle of Man General Election Candidates 2016
Arbory, Castletown and Malew (7)
Richard Stephen McAleer
Independent
Philip Anderson Gawne
Independent
Graham Derek Cregeen
Independent
Carol Barbara Quine
Manx Labour Party
Jason Robert Moorhouse
Independent
Carl James Parker
Independent
Stephen Raymond Crowther
Independent
Ayre and Michael (6)
Patrick Stephen Ayres
Liberal Vannin Party
Timothy Simon Baker
Independent
Alfred Louis Cannan
Independent
Alan Kermode
Independent
Carlos Phillips
Independent
Louise Elizabeth Whitlegg
Independent
Douglas Central (6)
Kurt Buchholz
Independent
Kathrine Anne Corlett
Independent
George Richard John Falk
Independent
Sara Dawn Andrea Hackman
Independent
Kim Michelle Inglis
Independent
Charles Christopher Thomas
Independent
Douglas East (8)
Clare Louise Battison
Independent
Quintin Bennett Gill
Independent
Richard Fredrick Halsall
Manx Labour Party
Jonathan Joughin
Independent
John Caley McBride
Independent
Christopher Roy Robertshaw
Independent
Catherine Rose Turner
Independent Green
Amanda Jane Walker
Independent
Douglas North (5)
Angela Karen
Independent
David John Ashford
Independent
John Ramsey Houghton
Independent
George Ralph Peake
Independent
Lynn Sirdefield
Manx Labour Party
Douglas South (4)
Kate Kathleen Joan Beecroft
Liberal Vannin Party
David Anthony Fowler
Independent
Keith Daryl Fitton
Independent
William Mackay Malarkey
Independent
Garff (5)
Andrew Barton
Independent
Daphne Hilary Penelope Caine
Independent
Nigel Anthony Dobson
Independent
Martyn John Perkins
Independent
Andrew Joseph Smith
Independent
Glenfaba and Peel (3)
Geoffrey Boot
Independent
Leslie Lucas Alfred Hanson
Independent
Raymond Karl Harmer
Independent
Middle (4)
William Edward Bowers
Independent
Paul Herbert Craine
Independent
Robert Howard Quayle
Independent
William Catto Shimmins
Independent
Onchan (5)
Anthony Allen
Independent
Rob Edwards Callister
Independent
Timothy Roy Craig
Independent
Julie Marie Edge
Liberal Vannin Party
David John Quirk
Independent
Ramsey (5)
Alexander John Allinson
Independent
Nicholas Lyndon Crowe
Independent
Lawrie Lee Hooper
Liberal Vannin Party
John David McDonough
Independent
Leonard Ian Singer
Independent
Rushen (5)
Leo Simon Cussons
Independent
James William Hampton
Independent
Mark Ian Kemp
Independent
Laurence David Skelly
Independent
Juan Paul Watterson
Independent