Isle of Man TT racer died on penultimate lap, inquest hears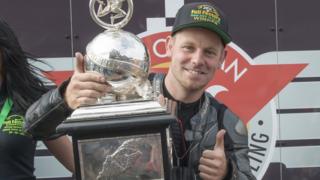 A motorcyclist died after hitting an embankment on the penultimate lap of a race at the Isle of Man TT, an inquest has heard.
Andrew Soar, 32, of Loughborough, Leicestershire, was killed during the six-lap senior TT race on 10 June.
Coroner John Needham said Mr Soar, who won the Manx Grand Prix in 2014, lost control of his bike at an area of the course known as Keppel Gate.
Mr Soar suffered severe brain injuries and died at the scene.
Race records show the IT technician averaged a speed of about 120mph during the race.
A witness said that his bike, number 53 in the race, hit the embankment before "kart wheeling down the road".
Mr Needham said: "Andrew was an experienced rider who knew the course well, this sad racing incident was entirely unforeseen.
"He was in the prime of his life and died following his passion".