Isle of Man beach clean-up charity Beach Buddies given cash boost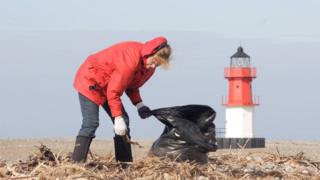 A beach clean-up charity has been given a £30,000 grant to help keep Manx beaches the "tidiest in Europe".
Beach Buddies, established in 2006, co-ordinates weekly operations around the Isle of Man's coast.
A spokesman said the cash will mean the organisation can "expand on its work" which includes launching an educational programme in the coming year.
The government awarded the grant and said its work had "encouraged more people to use the outdoors".
The island's environment department said Beach Buddies, which has about 7,000 volunteers, had complemented several government strategies which also included growing visitor numbers.
Beach Buddies organiser Bill Dale said: "We now believe they [the beaches] are the tidiest in Europe."
New initiatives also include more bins at various beauty spots around the island.
It also aims to establish an online litter hotline where the public can report problems.