Police to trial drones during Manx motorcycling festival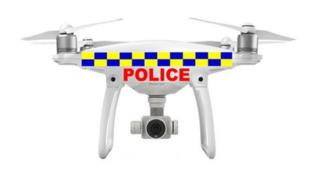 Drones are to be used by Isle of Man police during the Festival of Motorcycling, the force has said.
Aerial footage will be used to aid officers investigating serious road traffic collisions and reports of missing vulnerable people.
The drones will be used during the fortnight of motorbike racing which starts on 19 August.
Police said the drones are equipped with high definition cameras which can capture video and still images.
Insp Allan Thompson said he believes their use will enable police to open roads more quickly following accidents.
Police said they are working closely with the Isle of Man Civil Aviation Administration to ensure their safe operation.
Colin Gill, Deputy Director of Civil Aviation, said: "The operation of all drones in the Isle of Man is governed by legal requirements that specify what drone operators should do and where drones can and cannot fly.
"However, it is important for the public to remember that unless being flown in support of the emergency services, the Festival of Motorcycling and the Isle of Man TT are strictly 'no drone events'.
"Restricted airspace is in place for these events and an unauthorised operator of a drone is liable to prosecution and a fine of up to £2,500."
The Festival of Motorcycling will include both the Classic TT and Manx Grand Prix races.