Ban on 'legal highs' approved by Isle of Man government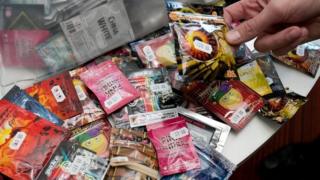 A ban on so-called legal highs has been approved by the Isle of Man government.
A new law criminalising the production, possession, distribution, sale and supply of psychoactive substances comes into force on 18 August.
The chemicals, sold under names such as spice and black mamba, are designed to give users the same effect as drugs like cannabis and cocaine.
The Manx government said offenders who break the law face up to seven years in prison.
The Psychoactive Substances Act 2016 follows legislation that was introduced in the UK in May.
Last year psychoactive substances were linked to more than 100 deaths in the UK and a rise in assaults in prison.
The substances remained lawful because there had been no scientific testing and advice leading to a ban.