Manx tailless cat genome project launched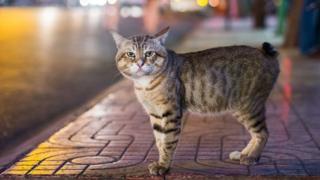 Work to reveal the genetic make-up of tailless Manx cats has got under way.
Computational biologist Rachel Glover has examined the DNA of a female cat called Bonnag from Douglas - she is one of only about 100 cats in the world to have had their genome sequenced.
The Manx cat, a breed originating on the island, has a naturally occurring mutation that shortens the tail.
Ms Glover said her research would examine genes associated with diseases often suffered by the breed.
Manx cats can suffer from health issues related to having too few vertebrae in the lower or middle part of their spines.
Some develop a disease called Manx Syndrome which causes incontinence and, in some cases, lameness.
"We hope it will shed some light on this condition and help us to develop tests which will give owners an idea about the risks," said Ms Glover.
"But first we have to analyse about 2.8bn letters of the gene sequence - we are working with scientists from all over the world."
The Manx Cat Genome Project, which has been crowd-funded, was launched last year.