Missing pet dog found a week after Isle of Man cliff fall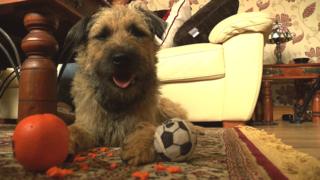 A dog that fell from the cliffs in the west of the Isle of Man has been found alive, a week after going missing.
Ralph, a one-year-old Lakeland terrier, went missing during his morning walk on Peel Hill on 25 July.
Owner Trudy Crowe from Peel said she was playing ball with him when he bolted after a rabbit and disappeared.
On Monday, Ralph was spotted at the foot of a 500ft (150m) cliff by a group of boys in a dinghy who brought him home.
"When I got the phone call telling me he'd been found I just screamed, I literally screamed," she said.
"The vet has checked him over and he's in perfect health apart from some weight loss and a cut paw.
"We think he kept alive by sheltering in rock crevices and drinking rainwater. We are so happy to have him home, even if he is a bit skinny."
Mrs Crowe said Ralph had been missing for eight days since going missing.
"That was the last time I saw him, I never gave up hope though, I knew he was alive - absolutely everybody has been out looking for him."