Summerland fire: Fifty victims remembered on anniversary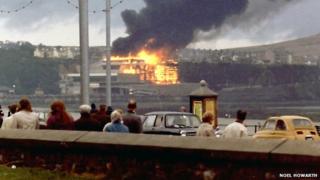 A short service will be held in Douglas later to remember the 50 people who died in the Summerland fire disaster.
About 3,000 holidaymakers were inside the complex when fire swept through the building on 2 August 1973.
The victims came from across the UK and included men, women and children - 11 of the dead were under 20 years of age.
The fire, sparked by three boys smoking in a disused kiosk, engulfed the building in minutes and led to changes in regulations around the world.
An act of remembrance involving a one-minute silence will be held opposite the vacant site at 19:30 BST.
'Permanent scar'
New building regulations introduced after the disaster included ensuring emergency exits are never locked and stipulating that children in entertainment venues should always be accommodated on or near ground level.
According to the Summerland Fire Commission report, the disaster will "remain a permanent scar in the minds of Manxmen".
A memorial concert will be held at the Peel Centenary Centre on Saturday.