Southern Agricultural Show: Record 10,000-plus crowd attends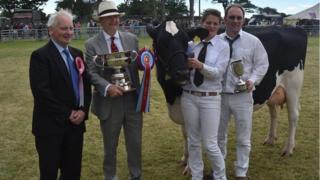 A record number of people attended the Southern Agricultural Show over the weekend, organisers have said.
The two-day celebration of Manx agriculture, first held in 1914, was held at Great Meadow in Malew.
Hundreds of animals were entered in various classes with a Holstein dairy cow owned by the Masson family crowned the show's supreme champion.
Secretary Sarah Comish said huge crowds turned up on both days - in total more than 10,000 people attended.
Mrs Comish said the show provides an opportunity for the public to meet famers and celebrate the fruits of their year-round labour.
According to the Manx National Farmers Union there are currently about 450 farms on the Isle of Man, some with thousands of livestock.
About 10,000 acres are also used to cultivate crops.