First same-sex wedding ceremony held on Isle of Man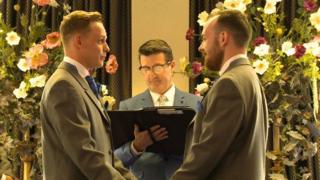 The Isle of Man's first same-sex wedding ceremony has taken place.
Luke Carine and Zac Tomlinson, who now live in Manchester, became the first couple to marry on the island since new laws were passed on 19 July.
The couple said it "meant the world" to get married in front of their family and friends in Ramsey on Saturday.
Marc and Alan Steffan-Cowell became the first Manx couple to convert their civil partnership to marriage last week - they chose not to have a ceremony.
The Marriage and Civil Partnership Act is based on the same legal framework introduced in England two years ago.
Homosexuality was still illegal under Manx law until 1992.