Isle of Man chief minister to retire after 32 years in politics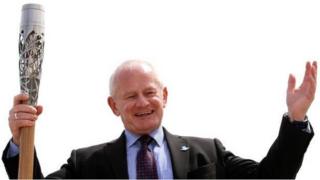 The Isle of Man's chief minister and longest serving member of the House of Keys is to retire from Manx politics, it has been announced.
Allan Bell will stand down as Ramsey MHK after 32 years before September's general election and his role as chief minister, held since 2011, in October.
He said it has been a "honour and a privilege to serve the people of Ramsey and the Isle of Man".
The general election will be held on 22 September.
Mr Bell, 69, from Ramsey said it was a privilege to have played a part in the island's economic and social achievements over the past three decades.
'New chapter'
During his 32 years as an MHK he held ministerial roles in tourism and leisure, industry, home affairs, the treasury and economic development.
Mr Bell said: "We are entering a new chapter in the island's story and it seems the right time to hand over to the next generation of national politicians.
"Working through the implications of Brexit, in particular, will be a long journey that is best started by members who are at an earlier stage in their career.
"There is no doubt, however, that the island is now strongly placed to face the challenges of the future."
Mr Bell was elected chief minister in 2011 after winning a clear majority over Liberal Vannin opponent Peter Karran.
A government spokesman said a Tynwald sitting to nominate the new chief minister will take place on 4 October.