Isle of Man's first concrete skate bowl opens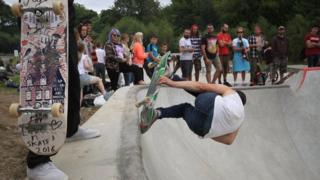 The first concrete bowl for skaters and bikers has officially opened on the Isle of Man.
The £56,000 extension to the skate park in Braddan came about after the Isle of Man Skateboarding (ISB) group approached commissioners.
Braddan Parish Commissioners said the bowl was a "bold step" that was "innovative and wanted".
ISB founder Kristian Edwards said many skate parks are "dilapidated" and the development created a "bench mark".
The park was built by UK ramp experts ConCreate after a tender process.
It was funded by Braddan ratepayers and is an extension of the island's only concrete park, which was built in 2013.
Mr Edwards said: "Many skate parks on the island are currently unusable, dilapidated and dangerous."
"Our aim is to promote skateboarding on the Isle of Man and thanks to this we have a great opportunity to do that."
"We want to thank Paul Parker for driving the project."
Commissionaire Colin Whiteway said: "When the first park was built we received very positive feedback and we were happy to listen to a request for an extension.
"Other authorities have already asked about our facility and will no doubt be paying attention to how successful it is."
The park was officially opened with a competition for local skaters on Saturday.