Thousands expected to attend Southern Agricultural Show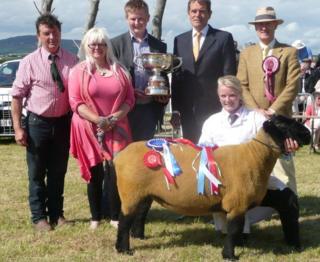 Thousands of people are expected to attend the 102nd Southern Agricultural Show in the Isle of Man, organisers have said.
The two-day celebration of Manx agriculture will be held at Great Meadow on Saturday and Sunday.
Hundreds of animals have been entered in various classes and the highlight will be the crowning of the show's supreme champion.
Last year the overall title was won by a Suffolk ewe.
The show's secretary Sarah Comish said attendance figures have risen in previous years.
Mrs Comish said it provides an opportunity for farmers to meet each other and show the wider community the fruits of their year-round labour.
According to the Manx National Farmers Union there are currently around 450 farms on the Isle of Man, some with thousands of livestock.
Around 10,000 acres are also used to farm crops.
Police said a one-way system will be in place for cars in the direction of Castletown.