Scaffolding caught in power cables in Ramsey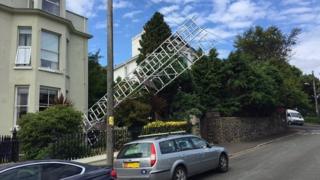 A scaffolding collapse saw part of Ramsey cleared as an aluminium tower fell into some power lines on Saturday, the Isle of Man Fire Service said.
Firefighters were called at 15:51 to Coburg Road where the tower had fallen towards the footpath and roadway.
It snapped some of the power lines which fell to the ground, while the remaining ones held the scaffolding in a "precarious position".
The tower was removed later in the day after the power was isolated.
Station officer Richard Harvey said: "Crews were deployed to assist with evacuating bystanders from the area and then, along with the police, securing a no entry safety zone until members of the Manx Utilities (Electrical Department) were able to attend and isolate the power."