Isle of Man 'can't justify' funding drug for boy with muscle-wasting disease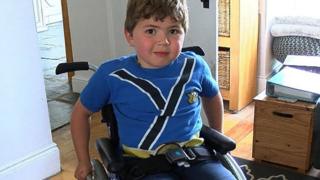 The Manx government "can't justify" funding a new drug for a seven-year-old boy who has a muscle-wasting disease, the health minister has said.
Howard Quayle said Translarna, which is available in England, has an annual cost of between £200,000 and £250,000.
The family of Finley Hesketh, of Onchan, believe the drug could help prolong his physical independence.
But Mr Quayle said the decision, while "emotive", was based on advice from the Clinical Recommendations Committee.
The Isle of Man group concluded that evidence for clinical effectiveness was currently "inadequate" to justify a six-figure-sum per patient per year.
Finley has Duchenne Muscular Dystrophy - an incurable condition which sees muscles gradually weaken.
His parents said that in a few years' time he could lose his ability to walk and by the time he is a teenager the condition will probably start affecting his lungs and heart.
His mother Kirstie told the BBC: "His life expectancy is late 20s, early 30s so he will probably die before us - that's a scary prospect.
"Our lives are being made more difficult just because we live on the Isle of Man.
"I was born here, Finley was born here. We don't want to leave home but if it comes down to it I will do everything I possibly can to help my son."
The Manx government has been criticised by Kate Beecroft MHK for for adhering to a "cruel and unfair" policy.
She said: "There is only one child on the island affected and he should be given the same chance as children in England and Wales."
In 2014 Translarna was approved for use in the European Union and is now used in several countries.
NHS England made it available from April 2015.