TT fans donate £15,000 for Manx motorsport charity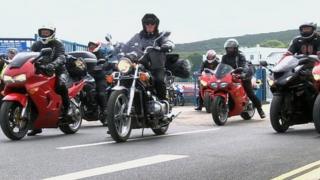 Sports fans have been thanked for raising £15,000 on behalf of a charity which supports medical services at motorsport events on the Isle of Man.
The money was collected from TT visitors in memory of Rob Vine, from Kent, who died during the Senior race in 1985.
Since then, more than £235,000 has been collected for the charity.
The money helps provide medical and rescue equipment and training for doctors, paramedics and marshals.
It was collected on the Manannan and the Ben-my-Chree ferry during the TT festival fortnight.
Director of The Rob Vine Fund, David Stevens, said: "Once again we have been blown away by the generosity of the TT fans, it is a fantastic total and will go a long way to helping the fund continue its important work."