Light aircraft 'may have stalled' says accident report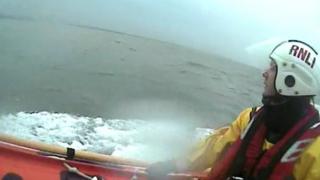 A light aircraft which crashed off the Lancashire coast, killing the pilot, "may have stalled", a report has said.
Ian Stirling, of Douglas, was flying a Rockwell Commander when it disappeared from radar while three miles out at sea at 09:15 GMT on 3 December 2015.
The Air Accidents Investigation Branch said it "may have stalled at a height from which recovery was not possible".
The 73-year-old, whose remains have never been found, had been flying from the Isle of Man to Blackpool.
The report added: "A technical fault or failure, or some external influence, cannot be entirely discounted."
Lifeboat and helicopter teams searched a 45 sq nautical mile (154 sq km) area after the plane went missing.
Debris was eventually found by a police maritime search unit off the Lancashire coast on 19 January.
The report states that the weather conditions would have been "challenging" for Mr Stirling at the time, and that he had "no instrument flying qualification".
The low cloud would have made "accurate control of the aircraft difficult for a pilot not experienced in instrument flight, and would have made any recovery from a loss of control - such as a stall - more difficult than usual".
The Civil Aviation Authority describes the instrument flying qualification as an additional licence which enables pilots "to fly in cloud and other circumstances of reduced visibility".
It includes meteorology training beyond what is required for a private pilot certificate or commercial pilot certificate.
A family spokesman said Mr Stirling was "an experienced pilot who had flown the route many times".