Man rescued by helicopter after Isle of Man coastal walk fall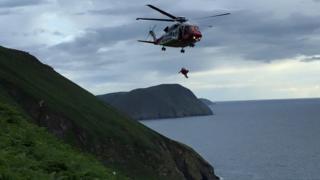 A walker has been rescued by helicopter after losing his footing and falling on a coastal footpath on the Isle of Man.
The man had been walking on a remote path on the west of the island known as the Hermit's Chapel, Eary Cushlin, at about 17:20 BST on Wednesday.
He was winched to safety by the North Wales coastguard before being flown to Noble's hospital for treatment for a broken ankle.
The Isle of Man Coastguard said the footpath was not accessible by road.