'Split-second' lapse caused fireball crash killing two riders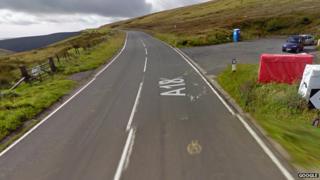 A "split-second lack of concentration" caused a head-on crash which killed two riders, an inquest has concluded.
Lewis Clark, 22, from Pontefract, West Yorkshire and Christian Berkhan, 53, from Germany died on 30 August 2015.
The court heard the pair were riding in opposite directions at about 11:00 BST when they collided causing "an enormous fireball".
Recording a verdict of accidental death, coroner John Needham said neither rider had time to react.
Mr Berkhan, a managing director, and Mr Clark, who worked as a chef, had both been visiting the island for the Isle of Man Festival of Motorcycling.
On the morning of the crash, Mr Berkhan had been travelling across the Mountain Road towards Ramsey in the north of the island.
Mr Clark had been riding in the opposite direction towards Douglas.
The accident was caused by a "split-second lack of concentration" when Mr Berkhan failed to correct his position on the road sufficiently after overtaking another bike, the court was told.
Seconds later, his Ducati bike collided with Mr Clark's Yamaha.
A police investigation showed that, at the time, Mr Clark's bike was near the white line but on the correct side of the road.
Mr Berkhan was riding on the wrong carriageway.
In a written statement, a witness said the "enormous fireball" happened immediately.
"There was an arch of fire in the air, the flames were everywhere and I was in complete shock," he continued.
"It didn't seem real to me, I've never seen anything like that before".
Mr Needham concluded that neither rider had been riding excessively fast and road conditions had been good.