Tynwald Day 2016: Thousands celebrate Manx national day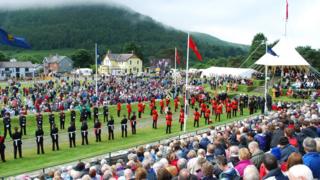 Thousands of people have gathered in St John's to celebrate Tynwald Day - the Isle of Man's national day.
It is the only day of the year when parliament is held in the open air and the public gets the chance to lobby politicians by presenting petitions.
One of those petitions has called for a statue to be built in the memory of Emmeline Pankhurst's mother.
Sophia Craine, who was born in Laxey in 1833, was brought up in Douglas, the capital of the Isle of Man.
A group called Friends of Sophia Goulden wants a statue to be erected in Laxey as a memorial.
During Tynwald Day the Manx flag is flown from the UK Ministry of Justice headquarters in London.
Justice minister Lord Faulks, who has responsibility for the Crown Dependencies, said: "It gives me great pleasure to be able to make this gesture annually, so recognising the historic and important constitutional ties that exist between the UK and the Isle of Man."