Isle of Man politicians recalled to debate Brexit impact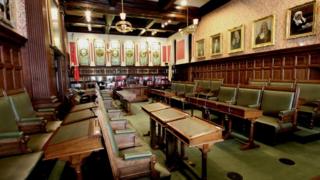 Manx politicians are to discuss the implications of the UK's EU referendum verdict at a special Tynwald session.
A government spokesman said the sitting, scheduled for 10:00 BST on Tuesday, has been called to debate how the Isle of Man will be affected.
The Brexit verdict means the Isle of Man will now have to seek a replacement for its Protocol 3 deal with the EU.
This arrangement allows for the free trade of manufactured goods and agricultural products.
The session was requested by Chief Minister Allan Bell and sanctioned by Tynwald President Clare Christian.
Mr Bell has spoken of the government's concerns about the impact of Brexit on the Isle of Man.
Last week he said the island was about to start a "journey into the unknown".
People in the Crown dependencies of the Isle of Man, Jersey and Guernsey could not vote in the referendum as none of them are in the EU.