IoM ferry firm to test Holyhead as back-up port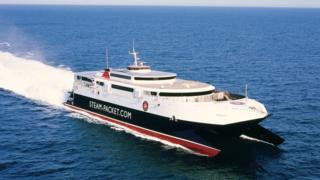 The Isle of Man Steam Packet Company will conduct a berthing trial at Holyhead in North Wales for its fast craft Manannan, it has announced.
The trial, which will not affect passenger services, will be carried out overnight on Wednesday.
Its aim is to assess Holyhead's suitability as a back-up to the ferry firm's ports in Liverpool and Heysham.
Last month, the company's other vessel, Ben-my-Chree, had a successful trial at the Anglesey port.
Steam Packet Company Chief Executive Mark Woodward said it was necessary to test other options for Isle of Man sea services.
He added: "This assessment will ensure that we have a full range of contingencies in place to maintain the vital sea links for our passengers and freight customers."
The journey between the Isle of Man and Holyhead would take the Manannan around two hours and the port also has a train station.