Treasury Minister Eddie Teare to stand down ahead of election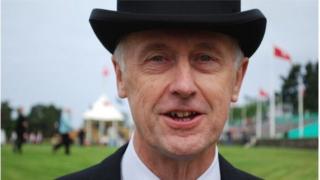 Isle of Man Treasury Minister Eddie Teare has announced he will stand down from the House of Keys ahead of September's general election.
The 68-year-old, who represents Ayre, said he made his decision after considerable thought and discussions with his family.
He said it had been "an honour and a privilege" to serve his constituents and the people of the Isle of Man.
The married father-of-two has been the island's treasury minister since 2011.
'A great bunch'
He was first elected as an MHK in 2004 and was re-elected in 2006 and 2011.
He said his decision was purely based on age. "I've just turned 68 and I would be signing up for a five-year contract.
"It has been a privilege to serve the people of Ayre and the Isle of Man. They've been a great bunch and it has been very interesting.
"There comes a time when you need some time to yourself and I want some time with my family before the Grim Reaper comes knocking."
The Isle of Man's general election will be held in September.