Mountain Road crash: Rider, 58, seriously hurt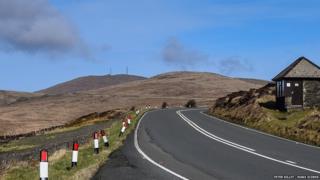 A 58-year-old motorcyclist has been seriously injured after a crash involving a car on the A18 Mountain Road, police have confirmed.
The collision between the visitor and a blue BMW driven by a 18-year-old local man happened near the Mountain Box at 16:35 BST on Saturday.
The motorcyclist was transferred to the UK and remains in a serious condition.
Police said the car driver was arrested on suspicion of motoring offences but has been bailed without charge.
Neither the motorist nor his passenger were injured.
The road was closed for six hours following the crash and police are appealing for witnesses.