Manx health department wants to spend £8m on new care home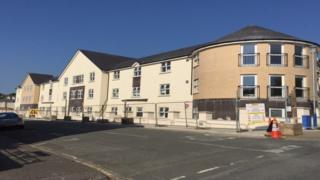 The Manx health department wants to buy an £8m newly built care home in Douglas in order to ease pressure on hospitals.
Health Minister Howard Quayle said buying the 68-bed facility would help to "ease a gridlock within the Isle of Man's health and social care system".
He said a growing number of elderly people, unable to afford nursing homes charging £800 per week, were "stranded" in hospital at a public cost of £2,000.
The planned purchase will be considered by Tynwald when it meets on 21 June.
"It does not make economic sense to leave patients - who are ready for discharge to a nursing home - in Noble's Hospital," said Mr Quayle.
"Action needs to be taken to reduce our costs and to free up capacity."
The government said that over the next 20 years the number of people on the island aged 65 and over is projected to grow from 17,000 to 26,500 - an increase of 55%.
It estimated that the Isle of Man would need to provide an additional 400 care beds between now and 2036 - the equivalent of one new care home every two years.
"The future growth of our older population will have implications for a number of public services," added Mr Quayle.
"We must continue to plan carefully for the long term to ensure a sustainable solution that enables us to maintain government's focus on protecting the vulnerable in our community."