Mountain Road crash rider named as Shaun Watkinson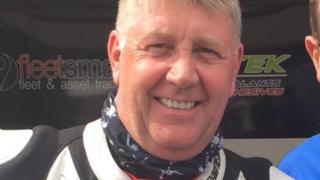 A man from Greater Manchester who died after the motorcycle he was riding collided with a car in the Isle of Man, has been named.
Shaun Watkinson from Bolton was riding his BMW motorbike when it collided with a Citroen car driven by a local man on the (A18) Mountain Road on 2 June.
The 55-year-old was treated at the scene but pronounced dead on arrival at Noble's Hospital in Braddan.
The car driver and passenger were taken to hospital but later released.
Both vehicles were travelling in the direction of Douglas when the crash happened on a section of road known as Hailwood's Rise.
Police said they are investigating and witnesses should contact them.