Isle of Man TT 2016: Duo complete 18,640-mile road trip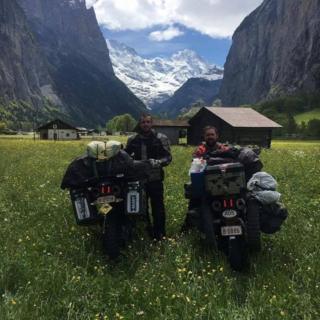 Two men have completed an epic seven-month motorcycle journey from Australia to the Isle of Man for the TT races.
Friends Eddy Corlett, 30, and Colm Connolly, 32, set off from Darwin in November and have ridden 18,641 miles (30,000 km) through 17 countries.
Mr Corlett said their arrival was "very emotional" and they were "looking forward to watching the TT races".
The men also travelled on a container ship, nine car ferries, a banana boat and travelled 621 miles on trains.
'Very emotional'
Mr Corlett said: "I'm really looking forward to letting our hair down and enjoying the races."
"It was a big relief to get here and we were very emotional arriving in Douglas. I'm a little bit sad for it to be over but it's a real sense of achievement getting here."
The men, who dreamt up the idea after hearing they were to made redundant, have had to cope with floods, soaring temperatures, snow showers and dust clouds on their way.
Around 45,000 visitors are expected during this year's Isle of Man TT fortnight, with the first racing on Saturday.