Bolton biker dies in Isle of Man Mountain Road crash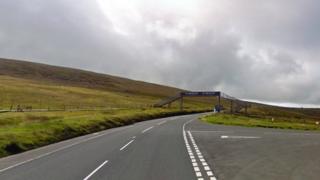 A 55-year-old motorcyclist from Greater Manchester has been killed in a crash involving a car on the Isle of Man.
Police said the Bolton man was riding a BMW motorbike when it collided with a Citroen car driven by a local man on Hailwood's Rise on the (A18) Mountain Road at 06:45 BST.
The rider was treated at the scene but was pronounced dead on arrival at Noble's Hospital.
Both vehicles were travelling in the direction of Douglas.
Insp Dave Dobbie said it was a "very sad outcome".
Police closed the road for four hours following the crash and are appealing for witnesses.