Billy Redmayne: Hundreds join soldier's final TT lap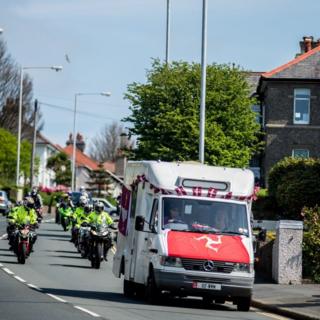 Hundreds of bikers have followed the coffin of a Manx soldier and racer on a final lap of the Isle of Man TT course.
The 25-year-old from Laxey died in hospital on 19 April after sustaining serious head injuries during a crash at the Oliver's Mount Spring Cup in Scarborough.
Redmayne was a member of the Parachute Regiment and had served in three tours of Afghanistan.
He was given a full military funeral at Douglas Crematorium.
Hundreds of well-wishers followed the coffin around the course which was transported in Mr Redmayne's much-loved ambulance.
His family thanked all those who turned up to show their respects.
The Laxey racer won the Junior Manx Grand Prix in 2015 and was regarded as one of the brightest prospects in the sport.
He had been set to make his debut at both the North West 200 and Isle of Man TT races this summer.
Redmayne had the full support from his regiment to pursue his road racing ambitions.