John Skinner: New Douglas Mayor appointed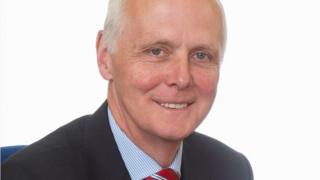 The new Mayor of Douglas has been officially appointed at a special ceremony in the Manx capital.
Councillor John Skinner will take over the role from Sara Hackman after being elected by members of Douglas Council.
He said he was "honoured" to take up the appointment at Douglas Town Hall.
Mr Skinner has served on the town's council since 2012 following a 30-year career in the Isle of Man Fire and Rescue service.
He said: "As a fairly new councillor I feel privileged and humbled to find myself here as the Mayor of Douglas following in the footsteps of a number of distinguished predecessors."
A council spokesman said: "During the four years that John has served on this council he has shown great dedication.
"He has worked tirelessly in whatever role he has held to scrutinise and help to bring about change."
Mr Skinner will hold the position until 12 May 2017